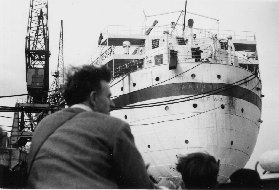 .......................................
........................................
.......................................
.......................................
.......................................
.......................................
.......................................
.......................................
.......................................
.......................................
.......................................
.......................................
.......................................
.......................................
.......................................
.......................................
.......................................
.......................................
.......................................
.......................................
.......................................
.......................................
.......................................
.......................................
.......................................
.......................................
In September 1952, the Asturias made her last voyage to Australia as a 'passenger vessel'.

Before that, on return journeys to Southampton, she carried Australian troops who disembarked for duty at ports such as Malta.

After September 1952 she was commissioned as a troop ship, with her first voyage leaving Southampton on October 30, 1952. The Asturias was finally decomissioned in 1957.
Cliff Schwerin, RAAF 78 Fighter Wing
Click here
to go the Schwerin family page which includes more photographs
[Photo supplied by Catherine Schwerin who can be contacted via the website administrator]
Last Voyage of the Asturias
28th July-27th August 1957
Inchon, South Korea to Southampton
Submitted by David S Hamilton Private, 1st Battalion to the Royal Sussex Regiment:
At the end of their year's tour of duty with the UN Occupation Forces in July 1957, the 1st Battalion of the Royal Sussex Regiment embarked on the Asturias at Inchon, South Korea on Saturday 27th July 1957 for their next posting in Gibraltar. However, a number of us were to remain on board at Gibraltar to return home to Southampton for demobilisation at the end of our two year's National Service.
Little did we know at the time that the same vessel had carried the surviving POWs from the 'Glorious Glosters' home, some five years earlier from Korea.
This was to be the final voyage of the Asturias before decommissioning, although, before going to the breaker's yard in September 1957, it was used for the shipboard scenes for the first film about the sinking of the Titanic, "A Night to Remember".
Our accommodation was a 6 berth cabin with the bunks in three pairs. I was fortunate to have the top bunk nearest the porthole, which was a blessing through the heat of the tropics and the Red Sea ....
read more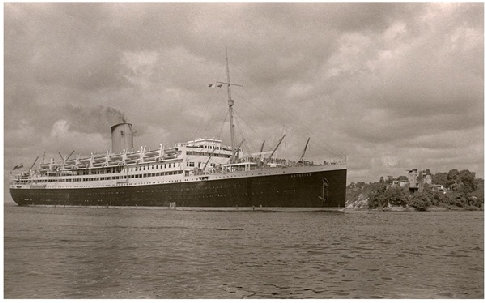 HMT Asturias entering Keppel Harbour, Singapore
November 1952
Photo taken from P Blakang Mati by Terry Fitzpatrick
Disembarking from the SS Asturias, members of 78 Fighter Wing RAAF head down the companionway to enter small boats which will take them ashore. They have come to Malta to carry out two years garrison duty.

28 July, 1952

[Source: AWM website, Photographer: Sebastian,
Jeffrey G]
Member of 78 Fighter Wing RAAF stand on the deck of SS Asturias as it approaches an imposing colonnaded building with three domes. The Wing is en route to Malta for garrison duty. Soon after these shots were taken, local police banned photography.

July 1952

[Source: AWM website, Photographer: Sebastian, Jeffrey G]
Lt Pat Cotter of Sydney, NSW, referees a boxing match aboard SS Asturias between Leading Aircraftman (LAC) H Silk of Perth, WA (foreground) and LAC J Holm of Wollongong, NSW, while six unidentified airmen look on.

July 1952

[Source: AWM website, Photographer: Sebastian, Jeffrey G]
En route to garrison duty in Malta, Ass Purser aboard SS Asturias, Mr I Sibsom, showing member of 78 Fighter Wing RAAF how to put on the standard life jacket. Identified personnel are: Leading Aircraftman Stan Quinn of Bargo, NSW (second from left) and Corporal Gordon Lee of Sydney NSW (far right)

July 1952

[Source: AWM website, Photographer: Sebastian, Jeffrey G]
Life Begins Anew for Ex-Prisoners
Five hundred and thirty British soldiers, most of them from the Gloucesters, stepped ashore in the dregs of a rainstorm here this morning at the end of the long ride home from the prison camps in North Korea.

They began their shortened lives again at 9am today in shed 107 of Southern Region railway docks. A joyful crowd had come to meet them, and a hundred private festivals were celebrated every minute as sunburned, happy soldiers crowded down the gangways from the transport Asturias. Children in their Sunday best were hoisted high into the air, admired, embraced and deposited among kitbags, while all the news of the 30 months came tumbling out at once. The long moment of welcome, the sum of the personal rejoicing of five hundred happy families, made slightly ludicrous the Army's stiff but well-meant attempts to be informal and the dark preoccupation of the press with the prisoners' politics. Brigadiers with nervous smiles wandered unsaluted through the throng.

As for the Communists, real or alleged, the general opinion among the prisoners who would talk seemed to be that their main reason for co-operating with the Chinese was to improve their lot in camp. In particular they got permission to send news of their survival to relatives. "But some of them" said a tall judicious corporal (who had spent a year in a punishment camp), would sell their county for a tailor-made fag.The welcoming began long before the Asturias' lines were fast. Families began to recognise their men - or to think that they had recognised them - at impossible ranges in the rain. The shouts were addressed to individuals dimly seen through the rain, individuals who maddeningly failed to recognise the recognisers until all breath was spent.

Half an hour later, with the ship secured, the recognition process was repeated. Soldiers, their eyes searching the four corners of the shed, wandered distractedly through the crowd. Then came the embraces and happy, silent meetings, all the remarks that are made for the sake of saying something - "Hasn't he grown?" and "I got your telegram all right".

"How well you look" could be heard most often, and the former prisoners did. Most of them, notably the Gloucesters, were in their thirties and were spare and agile and supremely cheerful. A strong contingent from the regiment had come to Southampton to meet their comrades missing since their famous action on the Imjin river in April 1951.

Source: The Guardian, 17 September 1953
On September 16th, 1953, Asturias arrived at Southampton, carrying 530 British soldiers, returning from Korea where they had been held in prison camps.

Joyful dockside reunions can be seen in the wonderful film clip at the British Pathe website: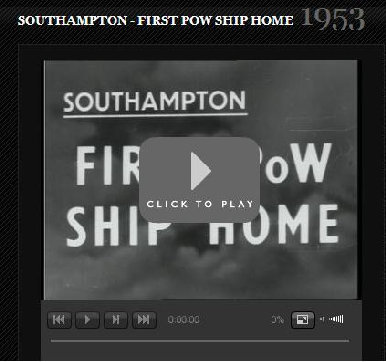 Provided courtesy of Mr Roger Griffiths, UK
(Double-click on book to view larger image)
"Since the truce talks opened in Korea there have been discussions among the crews of ships on transport duty as to which would have the luck to be on turn when the first released British prisoners had to be brought home. The privilege, as the crews regarded it, fell to the Asturias..."

Excerpt from article by Frank C Bowen.
Source: British National Archives [Piece MT40/142]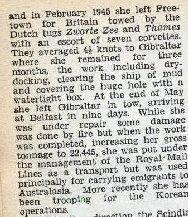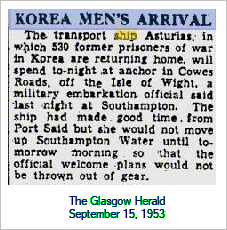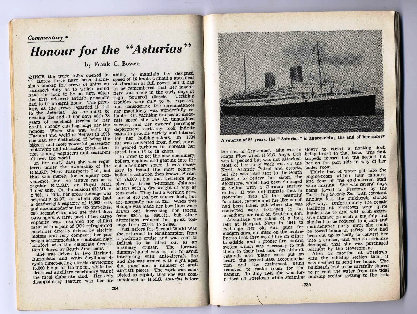 MCHS 0290.09 - Troopship ASTURIAS

Brief history of the ship.

ASTURIAS

built: 1926 by Harland & Wolff Ltd, Belfast
tonnage: 22,445gross
dimensions: 666 X 78ft (203 X 23.9m)
service speed: 18 knots
propulsion: Geared turbines/twin screws

Asturias was so badly damaged during the war, she was written off as a total loss, but was eventually repaired and gave several years good service ns a migrant ship. When she arrived in Australian waters, she had a single funnel and mast, and geared turbine engines, but when built was quite different. The first of two liners built for Royal Mail Line, she was launched on7 July 1925, and left Southampton on her maiden voyage to South America on 27 February 1926. The following year she was joined by her sister, Alcantara, and they were, for a short time, the largest motor liners in the world, being powered by Burmeister & Wain diesels. Unfortunately, these engines caused excessive vibration at cruising speed, so in 1934 Asturias and her sister returned to their builder's yard, where geared turbine machinery was installed. At the same time, the vessel was lengthened 10 ft (3.2 m), and her two funnels raised. On returning to service in September 1924, Asturias had accommodation for 330 first, 220 second and 768 third class passengers. Asturias had been frequently used for cruises in the first eight years of her career, and continued to combine cruising with regular voyages to South America until September 1939. Being in Southampton when war broke out, she was immediately requisitioned, and returned once more to the Harland & Wolff shipyard at Belfast, this time to be converted into an armed merchant cruiser. All her internal fittings were removed and placed in storage in Southampton, but in November 1940 they were destroyed during an air raid. Eight old 6-inch guns, relics of the previous war, were fitted, and at the same time the dummy forward funnel was removed.

The conversion work was completed at the end of September, when Asturias was sent north to join the North Atlantic Patrol, based on Scapa Flow. This lasted until late in 1941, when Asturias was sent to the Newport News shipyard in America to be refitted. An aircraft hangar and catapult were installed, which necessitated the removal of the mainmast and the after part of the superstructure, and new guns were fitted. Early in 1942, Asturias returned to service, being sent to Freetown to patrol in the South Atlantic.

In mid-1942, the Admiralty purchased a wooden floating dock from America, and Asturias was selected to escort it being towed across the Atlantic, but the dock sank en route. Asturias returned to patrol duty, then in June 1943 was sent to escort a steel floating dock the Admiralty had purchased in Montevideo. Asturias met up with the tug Roode Zee and the dock off the coast of Brazil, heading for Freetown.


















































ASTURIAS AS BUILT WITH TWO SQUAT FUNNELS

Asturias followed a zigzag course ahead of the dock, with smaller escorts on each side. When the convoy was 400 miles from Freetown, Asturias was hit by a torpedo, fired by the Italian submarine Ammiraglio Cagni, just before midnight on 24 July 1943. Exploding in the port engine room, and killing four men, the ship was disabled by the hit. The dock continued on its way, and two small vessels stayed with Asturias until 26July, when the tug Zwartze Zee arrived, at that time the most powerful tug in the world.

Asturias was towed to Freetown, arriving on 1 August, and beached with her midships open to the sea. She was left in this state for 18 months, and eventually declared a total loss. However, in February 1945 the hulk was purchased by the Royal Navy, and a concrete patch fitted over the hole in her side. Zwartze Zee and another tug, Thames, towed her to Gibraltar for dry-docking and further repairs, which lasted three months, and then the two tugs towed her back to Belfast, for rebuilding by Harland & Wolff, as a troopship. The work was delayed by a fire on board, but in mid-1946 Asturias was ready for service once again, managed by Royal Mail Line on behalf of the Ministry of Transport.

On 12 October 1946, Asturias left Southampton for Cape Town, then went on to Australia, berthing in Fremantle on 12 November, Melbourne on 17 November and being in Sydney from 19 to 26 November before returning to Britain. During 1947 Asturias made two voyages to Fremantle, the first from Southampton on 29 August, arriving on 21 September, the second from the same British port on 9 November. Her career as a troopship continued through 1948, but in 1949 she was allocated by the Ministry of Transport for the Australian migrant trade.

EMIGRANT SHIP ASTURIAS IN SYDNEY COVE

Asturias was refitted yet again, to carry 160 first class, 113 third class and 1134 dormitory passengers on the Australian trade, though on her return trips she would be empty. Still painted in her troopship colours, grey hull and upper works, with a yellow funnel, Asturias departed Southampton on 26 July 1949, with 1340 migrants on board, and voyaged to Fremantle, Melbourne and Sydney. On her second voyage, Asturias left Sydney on 10 December 1949 and went to Jakarta to board Dutch nationals and carry them back to Rotterdam.

The third voyage by Asturias departed Southampton on 8 February 1950, and on her return, the liner was repainted in the colours of her former owners, Royal Mail Line. Her first departure from Southampton in this guise was on 10 May, and after leaving Sydney on 19 June, she called at Fremantle on 25 June, then went back to Jakarta again on 29June. Asturias remained on the Australian migrant trade until 1953, when she was withdrawn and returned to trooping duties.

Repainted in peacetime troopship colours, all white with a coloured rib band around the hull and a yellow funnel, Asturias began transporting British troops to the Korean war zone, a role she continued to fill for the next four years. On 14 September 1957, the old liner arrived at Faslane, to be broken up. Before this happened, though, she was used for deck scenes during the filming of 'A Night to Remember', the story of the Titanic disaster.



Copyright © 2005 Movement Control Association
Last modified: September 16, 2008























Asturias Experience 1954
Journey to Singapore of a Radar Mechanic in the Asturias in 1954
It was September 1954. The 8 month radar course at Aborfield was coming to its end when the sergeant instructor came into the class room with a collection of paper in his hand. His message was: "You have all passed your trade test, now is the time for you to use your skills to pay back Her Majesty by going out to maintain her radars"....
Read Harry Chandler's account of his trip to Singapore on the Asturias
here