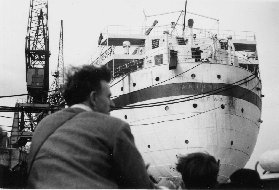 Who Are They?
These photographs were taken on board the Asturias in November 1948, by Pat Piggott. His wife Irene (Rene) and son Michael are pictured with other passengers. If you can identify them, please let us know.
Established by Sir Richard Linton in 1925, the Big Brother Movement Organisation supports and assists a wide range of young Australians to reach fulfillment within their lives. The BBM Awards program enables promising young Australians to widen their horizons by visiting Britain in a number of broad categories including the arts, music and sports. The website of the BBM includes a forum to contact friends.
Fairbridge Kids is the web presence of The Old Fairbridgians' Association of Western Australia. The Association was formed in 1930 and served, and still does serve, as a benevolent organisation with its main mission to enhance the welfare of Old Fairbridgian's - those children whose home for part of their lives was at the Kingsley Fairbridge Farm School at Pinjarra in Western Australia. Many migrant children from the UK were settled at Fairbridge.
This WA Maritime Museum "Welcome Walls" is a fascinating site that allows you to search the historic "Passages" database of arrivals in Western Australia, and to register names on the "Welcome Walls"
Download a Fact Sheet from the Australian Government National Archives of Australia which lists addresses of Reading Rooms and Opening Hours.

Addresses of other national archives including Asia and the Pacific, UK and Ireland, Europe, the Americas and Africa can be found here.

"Convictions" - Australian Shipping on the Net; this site contains shipping and passenger information for Australia and, to an increasing extent, New Zealand. As well as arrival and departure details, where possible, background information is also provided."
The National Archives is the official archive for England, Wales and the central UK government, containing 900 years of history from Domesday Book to the present. There is an extensive 'Family History' section.
Genealogy Search Australia, the free Australian Genealogy and Family History Search Engine and Directory for the most useful Australian and International family history and ancestry sites. Extensive lists of convicts, bushrangers, ships, passenger lists, censuses, cemeteries, genealogical clubs and societies and family history sites
This site contains millions of family history records online. Although you need to subscribe to download copies of documents, you can do a simple search for free that can give information such as date of arrival in another country, and port of arrival. At the site, choose the tab marked 'migration' then refine your search (for example, choose 'Passenger Lists Leaving UK 1890-1960') then 'search'.
The online source of civil registration, open census records, old parish registers and wills for Scotland. The "Family Records" section will be of interest to those researching family history.

Who Are They?
A site from the U.S.A. which has links to resources, and tips for tracing family history and creating a family tree, including free templates (thanks to Emily in Colorado for this link!).


People who migrated from Malta may be interested in a website "Malta Migration.com" which collects information for the interest of migrants and has many links to Maltese Associations.
Formed to "celebrate and maintain Maltese culture within Western Australia" and "to foster goodwill and social interchange within the Maltese Community within Australia".
The Association was formed in the 1950s by a group of Maltese "New Australians" who used to meet and socialise and maintain close ties with their fellow countrymen. The site has photographs, bulletins, news and links to sites of interest.
"The Kresy-Siberia Group is "dedicated to researching, remembering and recognizing the Polish citizens deported, enslaved and killed by the Soviet Union during World War Two". It was established by a number of survivors and their descendants to tell the stories of the "Polish Gehenna" to the world. We have an active discussion group, a website, memorial wall and online gallery containing thousands of photographs and documents posted by our members."
A site with memorabilia and information about ships of the Chandris Line including the Australis and the Ellinis.
"Memories of working on the Chandris Lines" - a site about the RHMS Amerikanis (Aug 71-May 72) and the RHMS Britanis (Aug 73-May 74).
Ken Ironside, the gym instructor on the Chandris Lines flagship SS Australis in the mid-seventies has created a site about the ship

Darren Byrne of Fremantle, WA, has created a web site about the SS Australis. He first travelled on the ship as a young boy in 1976 and now devotes many hours to this comprehensive website.